Stainless steel pipes are a kind of economical cross section steel and it is an important product in iron and steel industry. Stainless steel tube is broadly utilized in decorative and industrial line, for example, most people use stainless steel tube to make stair handrail, protective windows, railings and furniture etc. The common two materials are 201 and 304, which is accounted about 8%-16% of the total steel and has a wide range of applications.
There is different diameters of Stainless Steel Pipes.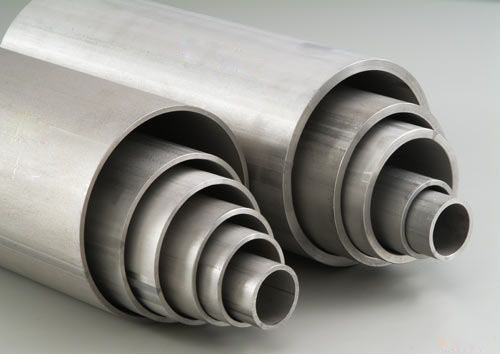 Due to hollow section, the steel pipes are suitable for transporting pipeline of liquid, gas, and solid; Compared with the same weight of round steel, the steel tubes has big section coefficient and large bending torsional strength, so it has become a major material for all kinds of mechanical and architectural structure. Under the equal weight condition, the structure and components made with stainless steel tube have lager section modulus than the solid parts. Therefore, stainless steel pipe is a kind of economic cross section steel of saving metal and is an important part of efficient steel. Above all, the oil drilling, refining and transportation etc. have bigger demand. Next, stainless steel tubes have a wide scope in geological drilling, chemical industry, building industry, aircraft and automobile manufacture as well as boiler, medical equipment, furniture and bicycle production etc. With development of new technology in rocket, missile and aerospace industry, stainless steel pipes have become more and more important in defense industry, science and technology and economic development. Therefore, it is important for you to select a reliable stainless steel pipe manufacturer.
Main Grade of Stainless Steel Pipe and Applications
| | |
| --- | --- |
| Grades | Applications |
| 301 | It is used for forming products with good ductility and good weldability. Abrasion resistance and fatigue strength is better than that of304 stainless steel. It can harden rapidly by mechanical processing. |
| 302 | The corrosion resistance of 302 is the same with 304. Due to high carbon content, intensity is better. |
| 303 | It is easier to cut processing than 304 by adding a little sulfur and phosphorus. |
| 304 | It is18/8 stainless steel. GB brand is 0Cr18Ni9. |
| 316 | After 304, it is the second to get widest applications. It is mainly used to food industry, pharmaceutical industry and surgical equipment. Adding molybdenum elements make 316 stainless steel gets a special structure of corrosion resistant. Because it has much better ability to resist chloride corrosion, it is often used as marine steel. SS316 is usually used for nuclear fuel recycling equipment. |
| 400 | 400 series Ferrite and martensite stainless steel |
| 408 | Weak corrosion resistance and good heat resistance. Cr: 11%;Ni:8% |
| 409 | The cheapest model (), it is usually used as auto vent pipe and is a ferritic stainless steel (chrome steel). |
| 410 | Martensite stainless steel with good abrasion resistance and weak corrosion resistance. |
| 416 | Adding sulfur can improve the processing properties of material. |
| 420 | Rj martensitic steel which is similar to brinell high chromium steel. It is used as surgical tools. |
| 430 | Ferritic stainless steel with good formability and poor temperature resistance and corrosion resistance. It is mainly used to decorate. |
| 440 | High strength cutting steel with high carbon. After appropriate heat treatment, it can obtain higher yield strength, the hardness can reach 58 HRC. It belongs to the most hardest stainless steel. The most common example is razor blade. Common models:440A, 440B, 440C. |
| 500 | 500 series-heat resistant chromium alloy steel |
| 600 | 600 series-martensitic precipitation hardening stainless steel pipe |

According to different applications, stainless steel pipe is divided into oil well pipe (casing pipe, oil pipe and drill pipe), line pipe, boiler pipe, mechanical structural pipe, hydraulic prop tube, vessel tube, geological tube, chemical pipe (high pressure fertilizer pipe, oil cracking pipe) and marine pipe etc.

Table 1 Domestic Stainless Steel Standard Grade

China
Japan
U.S.A
U.K.
Germany
France
Russia
GB1220-92
GB3280-92
JIS
AISIUNS
BS970BS1449
DIN17440
DIN17224
NFA35-575
NFA35-576
ГОСТ5632
0Cr13
SUS410S
S410
1Cr13
SUS410
410
410S21
X7Cr13
Z6C13
08X13
2Cr13
SUS420J1
420J1
420S29
X20Cr13
Z20C13
20x13
1Cr17
SUS430
430
7Cr17
SUS440A
440A
9Cr18
SUS440C
440C
X105CrMo17
Z100CD17
95X18
0Cr18Ni9
SUS304
304
304S15
X5CrNi189
Z6CN18.09
08X18H10
00Cr19Ni10
SUS304L
304L
304S12
X2CrNi189
Z2CN18.09
03X18H11
0Cr17Ni12Mo2
SUS316
316
316S16
X5CrNiMo1812
Z6CND17.12
00Cr17Ni14Mo2
SUS316L
316L
316S12
X2CrNiMo1812
Z2CND17.12
03X17H14M2
0Cr18Ni11Ti
SUS321
321
X10CrNiTi189
Z6CNT18.10
08X18H10T
0Cr18Ni11Nb
SUS347
347
347S17
X10CrNiNb189
Z6CNNb18.10
08X18H12F


Table 2 Chemical Compositions of Martensite, Ferrite, Austenite and Diphasic Stainless Steel

Grade
Mark
Chemical Compositions(%)
C
Cr
Ni
Mn
P
S
Mo
Si
Cu
N
Others
201
1Cr17Mn
6Ni5N
≤0.15
16.00-
18.00
3.50-
5.50
5.50-
7.50
≤0.060
≤0.03
-
≤1.00
-
≤0.25
-
201L
03Cr17Mn
6Ni5N
≤0.03
16.00-
18.00
3.50-
5.50
5.50-
7.50
≤0.060
≤0.03
≤1.00
≤0.25
202
1Cr18Mn
8Ni5N
≤0.15
17.00-
19.00
4.00-
6.00
7.50-
10.00
≤0.060
≤0.03
≤1.00
-
≤0.25
-
204
03Cr16Mn
8Ni2N
≤0.03
15.00-
17.00
1.50-
3.50
7.00-
9.00
0.15-
0.30
China
1Cr18Mn10Ni
5Mo3N
≤0.10
17.00-
19.00
4.00-
6.00
8.50-
12.00
2.8-
3.5
0.20-
0.30
Russia
2Cr13Mn
9Ni4
0.15-
0.25
12.00-
14.00
3.70-
5.00
8.00-
10.00
China
2Cr15Mn
15Ni2N
0.15-
0.25
14.00-
16.00
1.50-
3.00
14.00-
16.00
0.15-
0.30
1Cr18Mn
10Ni5Mo3N
≤0.15
17.00-
19.00
4.00-
6.00
8.50-
12.00
≤0.060
≤0.03
2.8-
3.5
≤1.00
-
0.20-
0.30
-
301
1Cr17Ni7
≤0.15
16.00-
18.00
6.00-
8.00
≤2.00
≤0.065
≤0.03
-
≤1.00
-
-
-
302
1Cr18Ni9
≤0.15
17.00-
19.00
8.00-
10.00
≤2.00
≤0.035
≤0.03
-
≤1.00
-
-
-
303
Y1Cr18Ni9
≤0.15
17.00-
19.00
8.00-
10.00
≤2.00
≤0.20
≤0.03
1)
≤1.00
-
-
-
303se
Y1Cr18Ni
9Se
≤0.15
17.00-
19.00
8.00-
10.00
≤2.00
≤0.20
≤0.03
-
≤1.00
-
-
Se≥0.15
304
0Cr18Ni9
≤0.07
17.00-
19.00
8.00-
10.00
≤2.00
≤0.035
≤0.03
-
≤1.00
-
-
-
304L
00Cr19Ni10
≤0.03
18.00-
20.00
8.00-
10.00
≤2.00
≤0.035
≤0.03
-
≤1.00
-
-
-
304N1
0Cr19Ni9N
≤0.08
18.00-
20.00
7.00-
10.50
≤2.00
≤0.035
≤0.03
-
≤1.00
-
0.10-
0.25
-
304N2
0Cr18Ni
10NbN
≤0.08
18.00-
20.00
7.00-
10.50
≤2.00
≤0.035
≤0.03
-
≤1.00
-
0.15-
0.30
Nb≤0.15
304LN
00Cr18Ni
10N
≤0.03
17.00-
19.00
8.50-
11.50
≤2.00
≤0.035
≤0.03
-
≤1.00
-
0.12-
0.22
-
305
1Cr18Ni12
≤0.12
17.00-
19.00
10.50-
13.00
≤2.00
≤0.035
≤0.03
-
≤1.00
-
-
309S
0Cr23Ni13
≤0.08
22.00-
24.00
12.00-
15.00
≤2.00
≤0.035
≤0.03
-
≤1.00
-
-
310S
0Cr25Ni20
≤0.08
24.00-
26.00
19.00-
22.00
≤2.00
≤0.035
≤0.03
-
≤1.00
-
-
-
316
0Cr17Ni
12Mo2
≤0.08
16.00-
18.50
10.00-
14.00
≤2.00
≤0.035
≤0.03
2.00-
3.00
≤1.00
-
-
-
1Cr18Ni
12Mo2Ti6)
≤0.12
16.00-
19.00
10.00-
14.00
≤2.00
≤0.035
≤0.03
1.80-
2.50
≤1.00
-
-
Ti5
(C%-0.02)~
0.08
0Cr18Ni
12Mo2Ti
≤0.08
16.00-
19.00
10.00-
14.00
≤2.00
≤0.035
≤0.03
1.80-
2.50
≤1.00
-
-
Ti5*C%-
0.70
316L
00Cr17Ni
14Mo2
≤0.03
16.00-
18.00
12.00-
15.00
≤2.00
≤0.035
≤0.03
2.00-
3.00
≤1.00
-
-
-
316N
0Cr17Ni
12Mo2N
≤0.08
16.00-
18.00
10.00-
14.00
≤2.00
≤0.035
≤0.03
2.00-
3.00
≤1.00
-
-
-
316N
00Cr17Ni
13Mo2N
≤0.03
16.00-
18.50
10.50-
14.50
≤2.00
≤0.035
≤0.03
2.00-
3.00
≤1.00
-
-
-
316J1
0Cr18Ni
12Mo2Cu2
≤0.08
17.00-
19.00
10.50-
14.50
≤2.00
≤0.035
≤0.03
1.20-
2.75
≤1.00
1.00-
2.50
-
-
316J1L
00Cr18Ni
14Mo2Cu2
≤0.03
17.00-
19.00
12.00-
16.00
≤2.00
≤0.035
≤0.03
1.20-
2.75
≤1.00
1.00-
2.50
-
-
317
0Cr19Ni
13Mo3
≤0.12
18.00-
20.00
11.00-
15.00
≤2.00
≤0.035
≤0.03
3.00-
4.00
≤1.00
-
-
-
317L
00Cr19Ni
13Mo3
≤0.08
18.00-
20.00
11.00-
15.00
≤2.00
≤0.035
≤0.03
3.00-
4.00
≤1.00
-
-
-
1Cr18Ni
12Mo3Ti6)
≤0.12
16.00-
19.00
11.00-
14.00
≤2.00
≤0.035
≤0.03
2.50-
3.50
≤1.00
-
-
Ti5
(C%-0.02)~
0.08
0Cr18Ni
12Mo3Ti
≤0.08
16.00-
19.00
11.00-
14.00
≤2.00
≤0.035
≤0.03
2.50-
3.50
≤1.00
-
-
Ti5*C%-
0.70
317J1
0Cr18Ni
16Mo5
≤0.04
16.00-
19.00
15.00-
17.00
≤2.00
≤0.035
≤0.03
4.00-
6.00
≤1.00
-
-
-
321
1Cr18Ni9Ti6)
≤0.12
17.00-
19.00
8.00-
11.00
≤2.00
≤0.035
≤0.030
-
≤1.00
-
-
Ti5
(C%-0.02)~
0.08
0Cr18Ni10Ti
≤0.08
17.00-
19.00
9.00-
12.00
≤2.00
≤0.035
≤0.03
-
≤1.00
-
-
Ti≥5*C%
347
0Cr18Ni11Nb
≤0.08
17.00-
19.00
9.00-
13.00
≤2.00
≤0.035
≤0.03
-
≤1.00
-
-
Nb≥10*C%
XM7
0Cr18Ni9Cu3
≤0.08
17.00-
19.00
8.50-
10.50
≤2.00
≤0.035
≤0.03
-
≤1.00
3.00-
4.00
-
-
XM15J1
0Cr18Ni13Si4
≤0.08
15.00-
20.00
11.50-
15.00
≤2.00
≤0.035
≤0.03
-
3.00-
5.00
-
2)